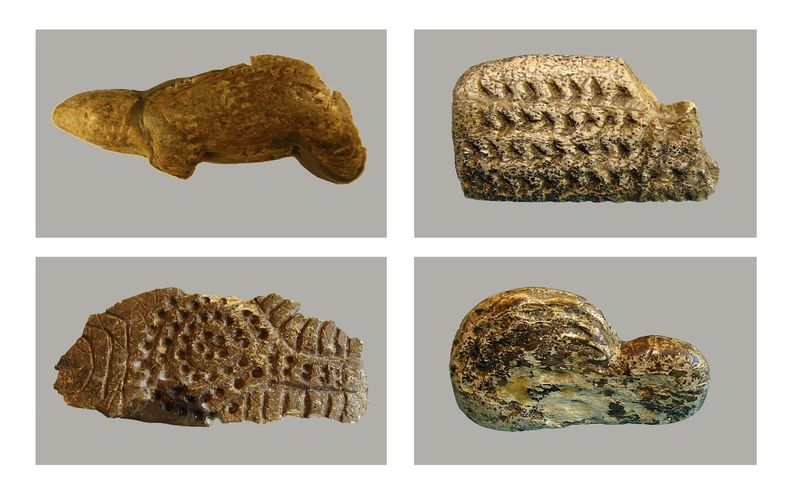 Zoomorphic figurines
It is a diverse set of animals: mammoth, gopher (otter), two snakes and a fish. The items are made on different types of blank: flake, bar type, rods, flattened blanks - blades.
For zoomorphic sculptures, the presence of a complex ornamental complex, represented by three typical types of Mal'ta ornament is characteristic: semi-lunar ornament, longitudinal lines, rows of cupulas.
Zoomorphic collection is characterized by an ornamental complex which is inclusive of three typical kinds of Mal'ta ornamentation: C-shaped signs, lines and "cupulas".
Collection
Publications
Abramova Z.A. Paleoliticheskoe iskusstvo na territorii SSSR. – M.; L.: Izd-vo AN SSSR, 1962. – 85 s., 63 tabl.
Volkova YU. S. Iskusstvo malyh form Severnoj Azii v ehpohu verhnego paleolita. – Dissertaciya na soiskanie u. stepeni kand. ist. nauk. – Kemerovo, 2011. S. 254.
Lbova L.V., Volkov P.V., Pankina A.I. Tekhnologicheskie aspekty proizvodstva mobil'noj plastiki v verhnem paleolite (zoomorfnaya skul'ptura Mal'ty) // V (XXI) Vserossijskij arheologicheskij s"ezd. – Barnaul: FGBOU VO «Altajskij gosudarstvennyj universitet», 2017. – S. 608-609.
Pankina A.I. Zoomorfnaya skul'ptura paleoliticheskoj stoyanki Mal'ta: tekhnologicheskij aspekt // Materialy 55-j Mezhdunarodnoj nauchnoj studencheskoj konferencii MNSK-2017: Arheologiya. – Novosibirsk: IPC NGU, 2017a. – S. 15–16.
SHmidt I. V. Izobrazitel'noe tvorchestvo v paleolite Severnoj Azii: metodiki interpretacij (istoriograficheskij aspekt). – Dissertaciya na soiskanie u. stepeni kand. ist. nauk. – Novosibirsk, 2006. – S. 344.