Ornamented discs, discoids and plates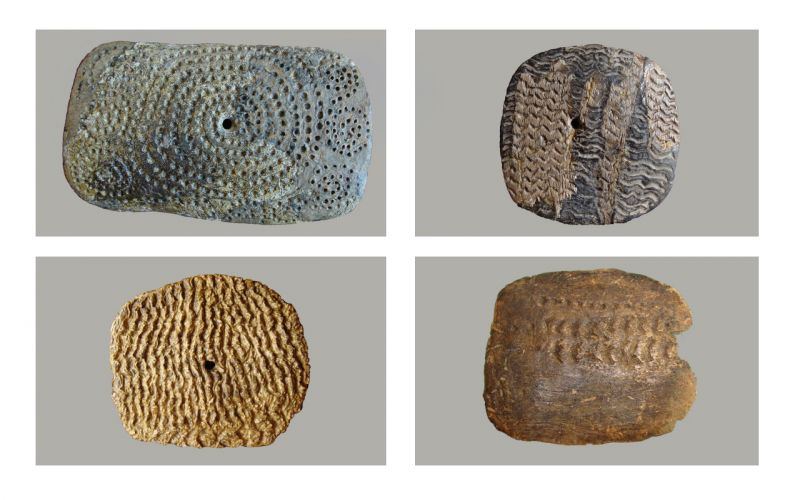 Ornamented discs, discoids and plates
Mal'ta collection of ornamented disks, discoids and plates consists of several items, which can be classified by the type of decoration. The ornamentation includes three typical Mal'ta elements: "cupulas" (2 pcs), C-shaped marks (3 pcs) and zigzag (3 pcs). The items are made on flattened ivory flakes and blades.
M. Gerasimov thought that Mal'ta plates were items of personal ornament (e.g. "badge"). Also there is another point of view by V. Larichev. He considered Mal'ta plates as a counting calendar-astronomical table.
Collection
Publications
Gerasimov M.M. Mal'ta. Paleoliticheskaya stoyanka (predvaritel'nye dannye): rezul'taty rabot 1928/29 g. – Irkutsk: Vlast' truda, 1931. 25 S.
Gerasimov M.M. Paleoliticheskaya stoyanka Mal'ta // Sov. etnografiya, 1958. № 3, S. 31
Kabo V.R. Krug i krest. Razmyshleniya etnologa o pervobytnoj duhovnosti. – Kanberra: Alcheringa, 2002.. 232 S.
Larichev V.E. Zarya astrologii. – Novosibirsk: iz-vo IAET SO RAN, 1999..318 S.
Larichev V.E. Mal'tinskaya plastina iz bivnya mamonta. – Novosibirsk: Inst. istorii, filologii i filosofii, 1986. 44 S.
Formozov A. A. K harakteristike paleoliticheskogo poseleniya Mal'ta. // Sovetskaya arheologiya. 1976. № 2. S.205-210.