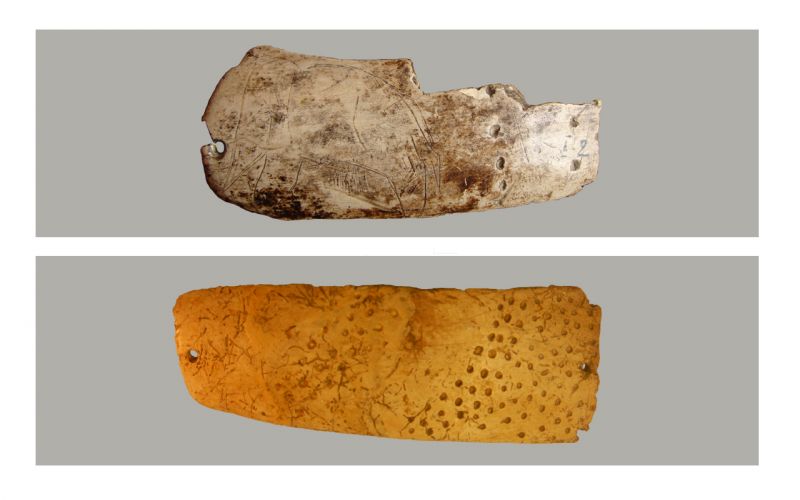 Diadems and bracelets
The collection of diadems and their fragments includes wide and narrow shapes made on ivory blades. Wide whole items are rounded and have a trapezoid or oval shape of edges. Narrow items have a "sharpened" shape of edges.
The collection of bracelets includes narrow blades, volumetric hoops and ivory or boghead clips. A bracelet-clip is a rectangular-shaped concave blade with rounded edges. The creation of the items were made with different technological ways.
The ornamentation of bracelets and diadems has traditional Mal'ta elements such as cupulas and straight lines. The type of ornamentations and forms can indicate different functions of items or their semantic meanings.
Collection
Publications
Abramova Z.A. Paleoliticheskoe iskusstvo na territorii SSSR // SAI, vyp. A 4-3. M,- L.: Izd-vo AN SSSR, 1963.
Gerasimov M.M. Paleoliticheskaya stoyanka Mal'ta // Sov. etnografiya, 1958. № 3, S.39-43
Gerasimov M.M. Mal'ta. Paleoliticheskaya stoyanka (predvaritel'nye dannye): rezul'taty rabot 1928/29 g. – Irkutsk: Vlast' truda, 1931. — 34 S.
ZHdanova A.I Ornamentika i forma mal'tinskih brasletov // Arheologiya: Materialy 57-j Mezhdunar. nauch. stud. konf. 14-19 aprelya 2019 g. /Novosib. gos. un-t. –Novosibirsk: IPC NGU, 2019, S. 23-24.
Volkov P.V., Lbova L.V. Mal'tinskie braslety iz bogheda // Materialy Godovoj sessii Instituta arheologii i etnografii SO RAN 2016. — Novosibirsk: Izd-vo Instituta arheologii i etnografii SO RAN, 2016. — S. 34-37
Lipnina E. A. Mal'tinskoe mestonahozhdenie paleoliticheskih kul'tur: dis. ... kand. ist. nauk. - Irkutsk, 2002.-. 313 S.